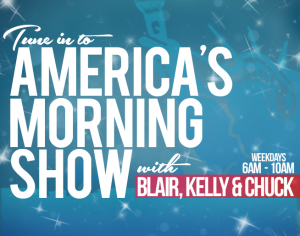 America's Morning Show, powered by NASH, brings superstars of country to listeners in an authentic, entertaining, and informative way. Fans have access to a mix of Country hits, lighthearted and candid interviews with Country music's biggest stars, and news about the Country lifestyle.
Host Blair Garner has won the Academy of Country Music's award for On-Air Personality of the Year three times and brings a conversational interview style that generates unique content that has made him one of the nation's leading hosts.
The other members of the morning show crew — Chuck Wicks, Kelly Ford, Robin Meade, and Off Eric — each give listeners a reason to wake up and smile with their varied musical backgrounds, vibrant personalities, and knowledge of the industry.
Monday-Friday 6a-10a ET
About Blair: Our fearless commander, master of ceremonies, and overall circus ringleader — Blair Garner.  Most importantly, though, Blair's the dad.  The cool, hip, wish-he-was-your-dad kind of dad.  Not only to his twins Braxton & Ava, but also to the whole show — mainly Chuck.  And he may have 30 years of radio experience under his belt, accolades to his name, and a spot in the National Radio Hall of Fame, but don't let that fool you.  He rarely takes himself seriously.  Nor does anyone else, for that matter.  Now if we're talking cars…that's a different story.  He doesn't joke about cars.  Since Blair was 12, growing up in Canyon, Texas, he's bought and sold over 180 cars.  Needless to say, it's his passion when he's not waking you up every weekday.
About Kelly: Kelly is the self-appointed leader of the "Y'all Y'all Sisterhood." She grew up in Kentucky and comes to America's Morning Show via New York via Colorado where she did mornings and middays for over 20 years combined.  Along her country radio journey, she has won 3 CMA's, an ACM, a Marconi and most recently a Gracie Award. Kelly is married and has 3 children and two adorable pooches, Bentley the Wonder Dog and his trusty sidekick Buttercup.
About Chuck: The little brother you never wanted.  That's Chuck.  A former Dancing with the Stars contestant and "Stealing Cinderella" singer, Chuck is the eternal 12-year-old.  When he's not taking a selfie (or Chuckie as we call it), you'll find him tweeting about himself, looking in the mirror or loving on his Cavalier King Charles pups Cooper and Duke.  Growing up on a Delaware potato farm, he's no stranger to hard work, he just doesn't like it.